The story of Kisagotami and the mustard seed is one of the most famous in Buddhist literature. The story was found in the paracanonical Pali texts, which is a story in itself. But first, let's learn about Kisagotami.
The Story of Kisagotami
Kisagotami was born into a poor family of Savatthi, also called Shravasti, which in ancient times was a prominent city in northern India.  She married into a much wealthier family. But her in-laws called her "skinny" and "girl of a poor family."
Then she gave birth to a son, and the baby brightened her life. As the mother of a son  she also gained respect in her husband's family. But the child somehow was accidentally killed while playing; the Pali text doesn't say how, exactly. And Kisagotami's reason for living died with him
She was crazed with sorrow; she snatched up her child's precious body before her husband's family could take it away and leave it to decompose in a charnel ground. She wandered with the little corpse on her hip, asking for medicine to cure him.
People ridiculed her and asked what good medicine would do, but she did not understand what they were saying.
Then a wise man saw her and recognized that she was out of her mind with grief. The Buddha would know what to do for her, he thought.  The man told Kisagotami where to find the Tathagata and ask about medicine for her son.
Kisagotami went to the place where the Buddha was teaching and asked about medicine for her son. The Buddha said he could help her, but first she must bring him a mustard seed — a very common spice that was sometimes used as medicine in the ancient world. But there was a catch — the mustard seed must come from a house that had never experienced death.
Frantically, Kisagotami went from one house to another, asking for a mustard seed. All were willing to give her what she wanted. But when she asked if anyone had ever died in the house, she was told "of course people have died here." Finally it sank into Kisagotami that death came to everyone; all beings are impermanent.  Her mind cleared, and she took her son's body to the charnel ground herself.
She returned to the Buddha, and he inquired about the mustard seed. I have resolved the matter of the mustard seed, she sighed. I understand now.  Then Kisagotami asked to be ordained into the order of nuns, and the Buddha ordained her.  She practiced diligently, and in time she realized enlightenment and became an arhat.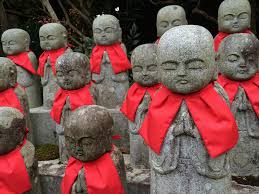 Comments
That is the story, as told in a text called the Therigatha Atthakatha, or "commentaries to the Therigatha." The Therigatha, "Verses of the Elder Nuns," is in the Pali Sutta-pitaka, in the Khuddaka Nikaya.
The Therigatha Atthakatha is not part of the formal Pali Canon, however, but is in what's called the "paracanonical Pali texts." This is a collection of commentaries, notes, sermons and stories that were preserved in oral tradition but were not attributed to the historical Buddha or his disciples, and so were not included in the Pali Canon. For centuries these commentaries and stories were only remembered in a few monasteries. Eventually the scattered texts were translated into Pali and collected, notably by the 5th century scholar Buddhaghosa.
A poem attributed to Kisagotami does appear in the Therigatha, but the story it tells is identical to the story of Patacara. One wonders if some long-ago, sleepy scribe got the two mothers confused.
Finally, I would like to add my own comment to Kisagotami's story.
The first time I  heard this story — and I can't recall from whom — it was said that as Kissagotami went from house to house looking for her mustard seed, people told her about their loved ones who had died, and shared their own grief. When her heart opened in compassion for them, her own pain became bearable.
The detail about compassion isn't in the original story, but I think it ought to be.
[This is an article I wrote for the Buddhism section of About.com. However, since About.com has removed it from their servers, all rights revert to me.]