Gunmen killed 12 people in the offices of a Paris satire magazine today. It's widely assumed — and probably true — that the attacks were in retaliation for the magazine's lampooning of militant Islam, although so far the "perps" have not been identified officially. In response, rightie blogs are having an insufferable self-righteousness orgy, and Richard Dawkins blames Islam. All of it.
Here is a page of cartoonists' tributes to the magazine, Charlie Hebdo. I thought this one got closest to the truth of it.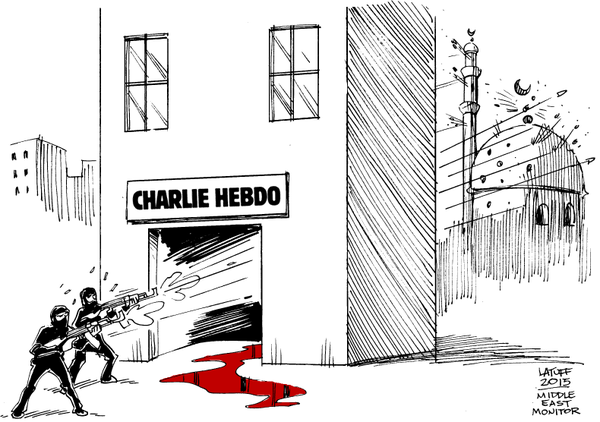 Assuming the gunmen are fanatical Islamists seeking to "punish" the magazine — Yes, they assumed their righteousness trumped other peoples' lives. Right now a lot of not-Islamic people are going to the same place. It ain't the religion, folks, or at least not the religion by itself — see "Religious Violence Isn't Just Religious."
Read more about religious violence in Rethinking Religion: Finding a Place for Religion in a Modern, Tolerant, Progressive, Peaceful and Science-affirming World
.
Update: See also "It Wasn't About the Cartoons."