One of the delicious paradoxes of the Buddhist path is found in the phrases "self power" and "other power."  What do they mean, and why do they present a paradox?
Some schools of Buddhism emphasize that realization of enlightenment comes through one's own efforts; no one can give it to you. This is reinforced by verse 165 from the Dhammapada:
"By oneself is evil done; by oneself is one defiled. By oneself is evil left undone; by oneself is one made pure. Purity and impurity depend on oneself; no one can purify another." (Acharya Buddharakkhita translation)
Yet, at the same time, the teachings say the "self" is an illusion. So what "self" does the powering? This makes no sense!
Read More: Self, No Self, What's a Self?
Other schools, notably Pure Land, developed an "other power" path. The Chinese monk Tanluan (476-542 CE), a patriarch of Pure Land, thought that the emphasis on self power reinforced self-centeredness, which is an obvious barrier to realization.
Instead, Pure Land emphasizes faith in the power of Amitabha Buddha to bring beings to the Pure Land, a place in which realizing enlightenment is as natural as breathing.
Read More: Pure Lands: Buddha-Fields of Enlightenment
However, the "self power" advocates can be very critical of the "other power" approach, saying that "other power" tends to reinforce the idea of a separate, permanent self that needs to be helped.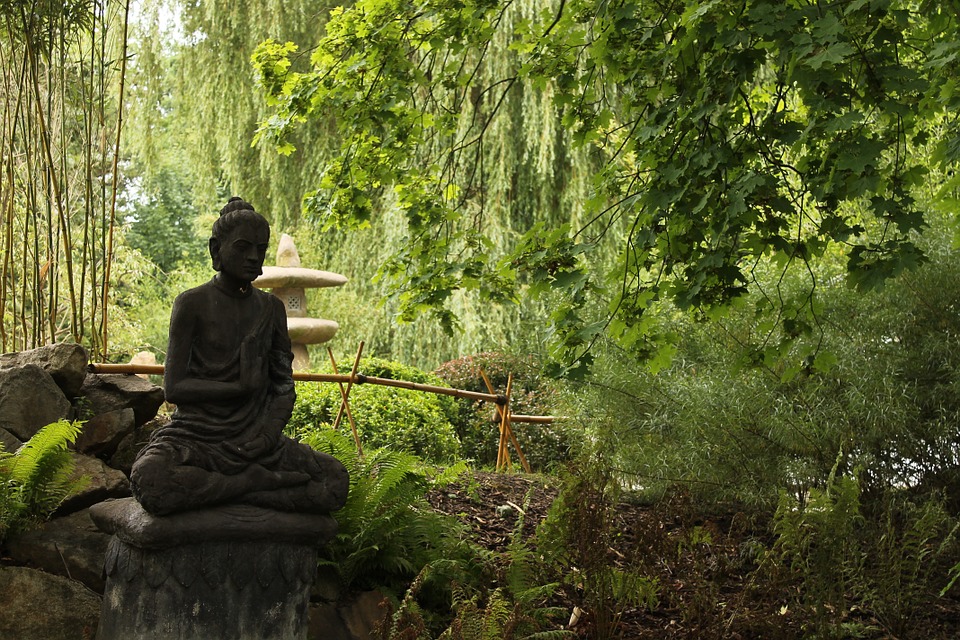 Jiriki and Tariki
In Japanese Buddhism, "self power" is called jiriki and "other power" is tariki. Of these, D.T. Suzuki wrote,
"Shin Buddhism is tariki (Other Power), Zen is jiriki (self-power), or so it is generally assumed, but that is rather a superficial observation. At bottom, when you really get down to it, there is no jiriki and no tariki. Or you might say that both are jiriki and both are tariki." [from "Anjin: Zen to Shin," originally published in the June 1965 issue of Kokoro]
Okay, what's going on here? In so many words, Suzuki explained that Amitabha Buddha cannot help anyone whose karma has not brought him to a place where he can be helped. And we are responsible for our own karma; we create it by our thoughts, words and deeds.
What about Zen? I'm thinking of these words of Eihei Dogen, from the Genjokoan —
To study the Buddha Way is to study the self.
To study the self is to forget the self.
To forget the self is to be enlightened by the ten thousand things.
When we forget the self, we are enlightened by the ten thousand things (which is a fancy way of saying "everything"). When we forget the self, what is left? All beings throughout space and time, manifesting their original Buddha Nature. In Mahayana Buddhism especially, enlightenment is realized together with all beings.
And there's the delicious paradox — practice/enlightenment is something you do with everyone else, because no one is separate. Not one, not many.
This is why bodhicitta is so important in Mahayana Buddhism. Bodhicitta is the sincere desire to realize enlightenment for the sake of others. Your "self-effort" is not about you.
Sometimes the spiritual path can be very selfish. It can be all about building a new, improved, minty-fresh self.  No matter what your practice is, if it's all about you, it's going to fail. True self-power requires opening up and letting everyone else in.
This is another reason why it's ideal to practice within a community. I realize that's not always possible. But it does reinforce the truth that our self-effort is also other-effort. And vice versa.
[This is an article I wrote for the Buddhism section of About.com. However, since About.com has removed it from their servers, all rights revert to me.]